Join a Kayak Quest for Whales in Friday Harbor! Kayak Tours & Trips with Sea Quest
Join An Adventure Of A Lifetime!
WHY CHOOSE SEA QUEST FOR YOUR FRIDAY HARBOR KAYAKING TOUR?
Ready to Start Your Adventure?
Friday Harbor Kayaking Videos
Kayak with Whales near Friday Harbor
Since 1989, our small company of dedicated kayak guides has specialized in offering educational sea kayaking tours from Friday Harbor, Washington. Our kayak trips are uniquely designed to create memorable encounters with wildlife, especially the amazing orca whales.
Of all orca whale sightings near Friday Harbor, over 95% occur in just one relatively small area that forms the western edge of the San Juan Islands. This is where the killer whales do nearly all of their hunting and playing and is referred to as the Orca Whale Sanctuary – check out our map page. It's the exact location where Sea Quest kayak trips take you orca whale watching!
Although our Friday Harbor kayak tours begin by meeting your guides in town, we transport you via shuttle van to the rugged, west side of San Juan Island for the adventure. This allows us to launch directly into the heart of the orca whale waters where we find orcas on nearly half of our kayak tours during the peak whale watching season.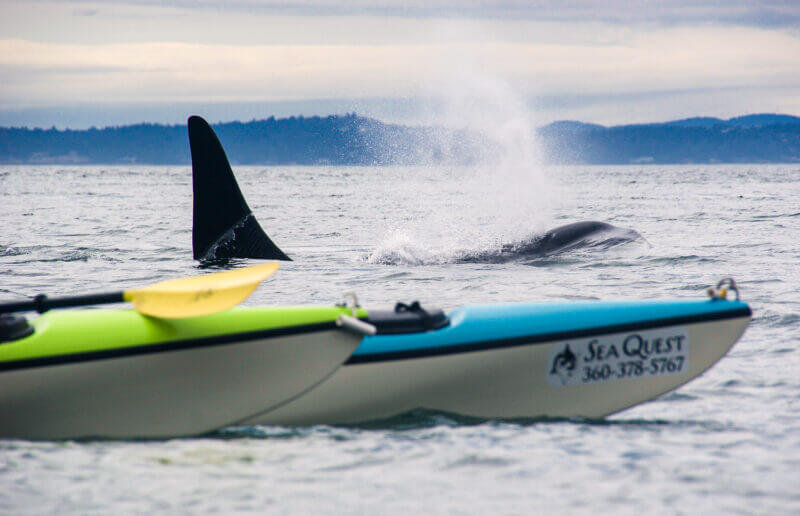 Friday Harbor Kayaking Tours
Sea Quest Kayak Tours offers a variety of fun guided kayak tours from Friday Harbor in the San Juan Islands. Our specialty is finding and kayaking with orca whales!
Friday Harbor Kayaking Tours
Quality and service are the hallmarks of our Friday Harbor sea kayaking tours. Our guides are supportive, knowledgeable, and fun to be with. Our safety training and equipment is tops among local outfitters. We will make your sea kayaking vacation comfortable, memorable, educational, and above all – fun!
Learn more about our Friday Harbor kayak tours by using the left sidebar menu.
Join a Kayak Quest for Whales!™