Join a Kayak Quest for Whales in Washington State! Kayak Tours & Trips with Sea Quest
Join An Adventure Of A Lifetime!
WHY CHOOSE SEA QUEST FOR YOUR WASHINGTON KAYAKING TRIP?
Ready to Start Your Adventure?
Washington State Kayaking Videos
Kayak with Whales in Washington State
For 30+ years, our small group of devoted professional kayak guides has focused on providing educational sea kayaking trips in Washington from one location – the killer whale waters of the San Juan Islands. Our Washington kayak tours are deliberately planned to generate unforgettable encounters with marine animals, particularly the astounding pods of resident killer whales.
The San Juan Islands of Washington state are the best location in the United States for watching orca whales. Within Washington, over 95% of killer whale sightings are made in a very small zone that fringes the extreme west boundary of the San Juans. Due to special protections, we call this the Killer Whale Sanctuary. It's the one place they visit on nearly every summer day to catch salmon and play. If you visit our map page you can see our kayak touring routes stick to the orca whale waters to maximize your chances of seeing orcas. Sea Quest kayak tours have the best record of successful killer whale watching!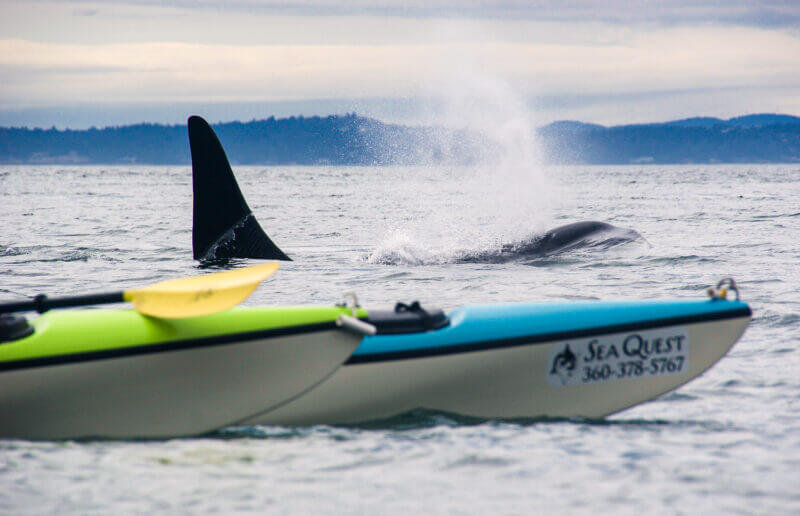 Our Washington kayak tours begin in the charming village of Friday Harbor, a popular vacation destination accessed by a scenic ferry ride, a short distance from Seattle. Other attractions include the San Juan Islands National Historical Park and the largest state park in Washington.
The most experienced Washington kayak tour leaders!
Quality and service are the hallmarks of our Washington sea kayaking tours. Our guides are reassuring, expert educators, and very entertaining kayak mates. Our safety skills and gear is the best among local outfitters. We will make your sea kayaking vacation comfortable, informative, extraordinary, and above all – fun!
Explore more about our Washington kayak trips by using the left sidebar menu.
Join a Kayak Quest for Whales!™