Escape the winter by kayaking in Mexico's Baja California Peninsula – a collision of desert wilderness and fertile sea.
The rugged Baja Peninsula of Mexico is the most popular winter kayaking trip destination in the world. Warm, sunny weather, striking scenery, and endless miles of wilderness Baja coast are perfect for sea kayak adventures. Naturalists and photographers will be enthralled by the uniquely evolved life in this lush coastal desert.
Sea Kayaking Mexico – The Best Baja Kayak Tours
Whale watching in Baja is excellent with over ten species present. Kayaking with whales is something we hope to do on every Baja kayak tour, and we've had encounters with blue, fin, humpback and more! On our Mexico whale watching trips (non-kayaking) trips we may even pet friendly gray whales!
As you can tell, I had a great time! It's hard to believe that just a month ago, I was essentially at the ends of the earth. Sea kayaking Baja was fantastic! Experiencing whales up close was one of the most life kayaking experiences I've ever had.

Mark Hoffman, Redmond, WA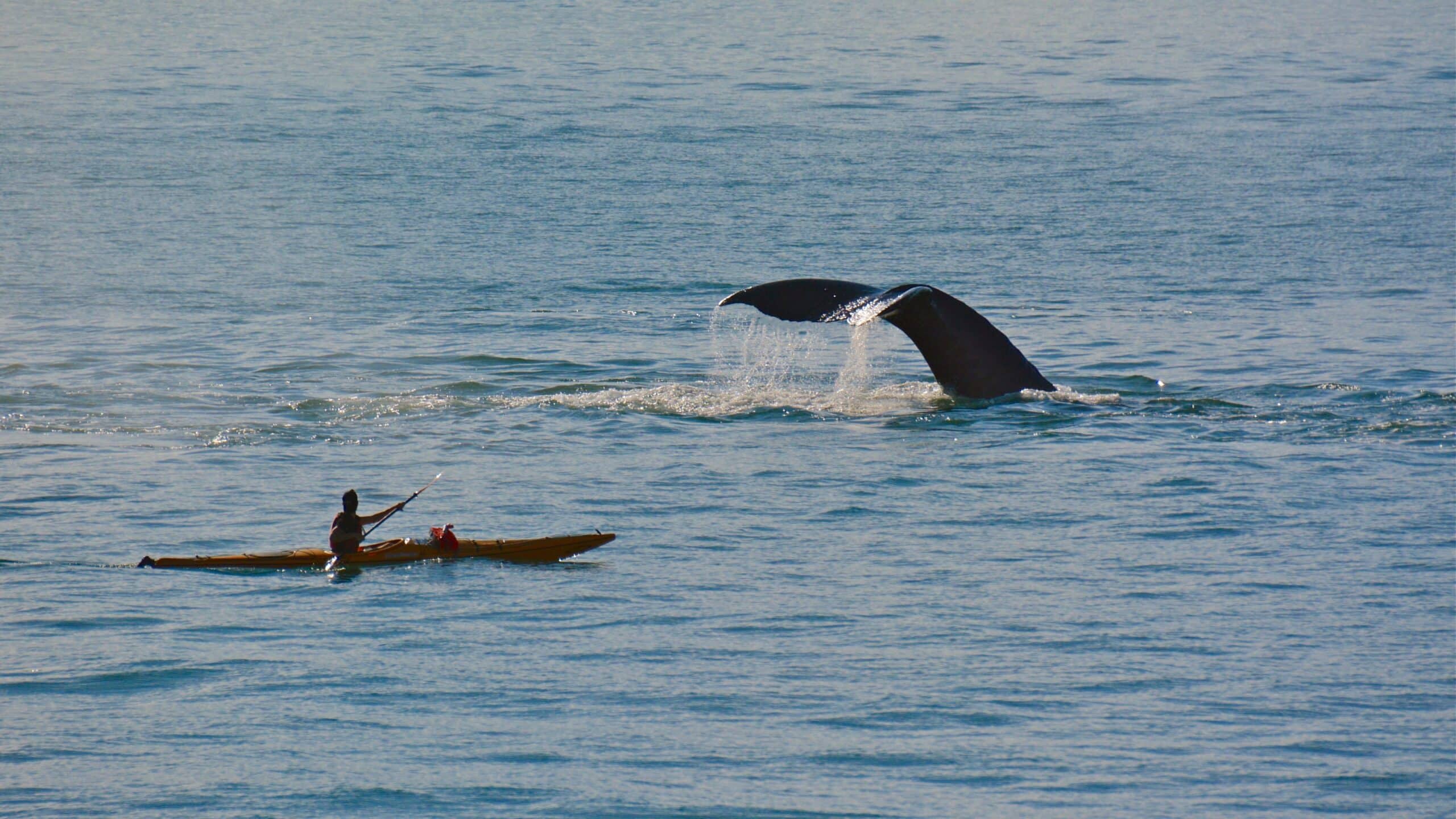 Sea Kayaking Baja – Premium Mexico Kayak Trips
The Baja kayak tour guides we employ have many years of experience and are local residents who grew up in Baja. Their knowledge transforms our Mexico sea kayaking trips into adventures of discovery! They will take you snorkeling with tropical fishes, hiking in canyons, and point you in the direction of the best beachcombing.
How else do our Baja kayak tours differ from other outfitters in Mexico? You can choose an exploratory-style Baja kayak trip that is strictly self-sufficient and moves camp from beach to beach. Or pick a less challenging base camp tour that enjoys the luxuries of a stationary safari camp. Our whale watching tours use either kayaks or motorized boats, or a combination of both! Group size for our exploratory Mexico kayak tours is limited to twelve participants, ensuring a close-up view of the Baja environs. Safari base camp tours can have a maximum of eighteen guests. Whether you desire a kayak expedition experience or a softer whale watching adventure, we have what you need.
Join Us Today for Sea Kayaking in Baja Mexico!
Hopefully, Sea Quest will be a part of your Baja kayaking vacation plans and we look forward to serving you in the future. Remember, Mexico kayak tours and flights to Loreto and La Paz fill fast so reserve now to avoid disappointment!